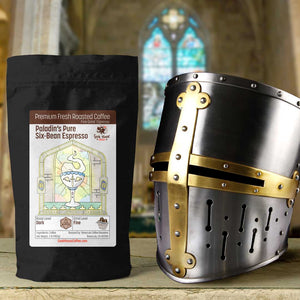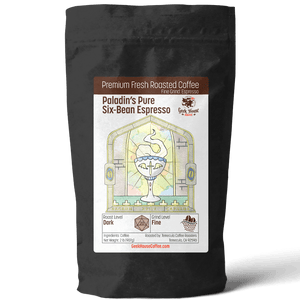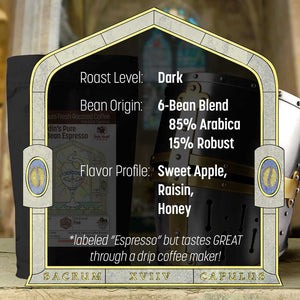 The Paladin's signature six-bean blend is the darkest roast we offer here at Geek House Coffee. This blend is not only perfect for espresso as the name suggests, but is brilliant as a dark roast drip coffee and even tastes great over ice for a real treat!

All Coffee from Geek House Coffee is roasted in small batches, ground and packaged to order.

Please read the Paladin's Pure Six-Bean Espresso backstory below for a short story on how the Paladins came about this special blend.
Paladin's Pure Six-Bean Espresso Backstory
Bold and Virtuous, Paladin's Pure Six Bean Espresso is crafted using the best beans from around the realm. For a millennia, Paladins from the Order of the Bean have collected and perfected the divine roast after countless Crusades. Blending six different exotic beans gifted after honorable deeds and combining with techniques passed down by the Heads of the Order. This gloriously dark, full-bodied blend is everything you would expect to arise from the righteous Paladins.
It is legend that the cup that held the first brew of the Paladin's Pure Six Bean Espresso is guarded by the last of three brothers. Three Paladins of an ancient order sworn to protect the sacred cup and have taken it to a secret location, lost to time. But recent markers have been discovered and now the race to recover and protect the sanctity of this relic is underway.
You can expect to face three challenges along the way and will need to walk the righteous path if you hope to succeed. I was lucky enough to find clues on my crusade in the Canyon of the Crescent Moon that will take you safely through:
The Grind of the Gods – Only the penitent man will grind
The Drip of the Gods – Only in the footsteps of God may you drip-brew
The Aroma of the Gods – Only the leap from the cafe will you prove your worth
I grant you this holy quest to pass all three challenges and if your heart is true, vanquish the keeper of the cup and take his place as it's sacred protector! Choose wisely or the armies of darkness will march all over the face of the Earth...and hey, if nothing else, you will at least have a spectacular cup of coffee!
Not Sure Which Coffee is Right for You?
I understand you might not know which coffee is right for you, but I don't want you to feel lost. Please do not hesitate to message me on Facebook or email me at vinny.geekhousecoffee@gmail.com with any questions, comments, or to share fun campaign story!
I'm here for you, and thank you for supporting small businesses, especially during these times!
 ~ Vinny
Coffee Stats
Dark Roast
Six Bean Blend

85% Specialty Grade Arabica Beans, 15% Robusta Beans
Indonesia, Africa, Central and South America
Sweat Apple, Raisin & Honey

DM Notes
Arabica: Coffea Arabica is grown at higher altitudes, has lower levels of caffeine and chorogenic acids, and higher levels of lipids and sugars, which in sum results in what is regarded as a higher quality cup then other beans.
Robusta: Caffea canephora, a strain of the coffee plant that has twice the caffeine of arabic, 60% less lipids, and half the sugars thereof. Grows at lower elevation, resistant to pests and diseases.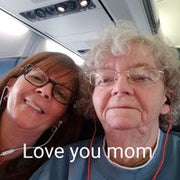 As a coffee addict I am always looking for a better cup. The Arcane Coffee is one of the smoothest, best tasting coffees I've ever had. Absolutely recommend buying this. Easy site to use, shipped fast.. I'm a forever customer now.
Theresa Deacon
I have been getting my coffee in the morning on the way to work. Now I have been making my coffee at home and bringing it with me! Smooth and delicious! I will be buying another lb of coffee when I finish this one.
Chrissy Wilkins