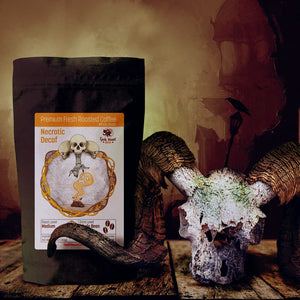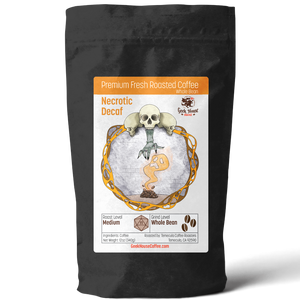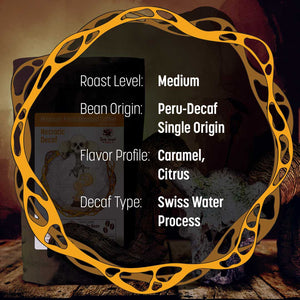 Necrotic Decaf is a full bodied decaf coffee that doesn't sacrifice any flavor. Using the Swiss Water Method, this decaf is clean on the pallet with no chemical or oily aftertaste. If it's good enough for the shepherds of the undead, it's good enough for you! =)
All Coffee from Geek House Coffee is roasted in small batches, ground and packaged to order.

Please read the Necrotic Decaf's backstory below to learn about how the Necro baristas extract the caffeine to create the undead beans.  
Necrotic Decaf's Backstory

So, fun fact, Necromancers can't ingest caffeine…it wakes them up in all the wrong ways! After centuries of getting picked on at the coffee houses by all the other schools of magic users, they devised a way to solve this problem as only a Necro can.
First the beans are harvested and cleaned. Before the drying process, specially trained Necromancers called Macabreistas perform a dark ritual that extracts the life essence from the beans. This life essence is what produces the caffeine when brewed. Once extracted, they are left with mounds of undead beans, but they are not quite ready to be brewed.
In order to complete the process, these undead beans must then be washed thoroughly with clean, pure mountain water. Like any true Necromancer, they don't do any manual labor themselves, they send hordes of zombies to collect the water in pales. They claim that zombies are better at fetching the spring water than skeletons are, the zombies walk slower and don't rattle around as much as they walk. Either way, they can work 24/7, never get tired or hungry and don't get paid, so there's that I suppose.
That sounds silly and wildly inefficient you say? Why not use those zombies to build aqueducts or water housing facilities you ask? I don't know what to tell you, Necromancers are weird people.
Not Sure Which Coffee is Right for You?
I understand you might not know which coffee is right for you, but I don't want you to feel lost. Please do not hesitate to message me on Facebook or email me at vinny.geekhousecoffee@gmail.com with any questions, comments, or to share fun campaign story!
I'm here for you, and thank you for supporting small businesses, especially during these times!
 ~ Vinny
Coffee Stats
Decaffeinated
Medium Roast
Single Origin
100% Peru Beans
Caramel & Citrus

Swiss Water Process
DM Notes
Coffee that is decaffeinated via the Swiss Water method is chemical free and produces coffee that is 99.9% caffeine free with a clean taste.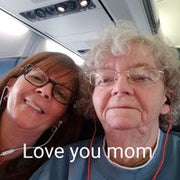 As a coffee addict I am always looking for a better cup. The Arcane Coffee is one of the smoothest, best tasting coffees I've ever had. Absolutely recommend buying this. Easy site to use, shipped fast.. I'm a forever customer now.
Theresa Deacon
I have been getting my coffee in the morning on the way to work. Now I have been making my coffee at home and bringing it with me! Smooth and delicious! I will be buying another lb of coffee when I finish this one.
Chrissy Wilkins