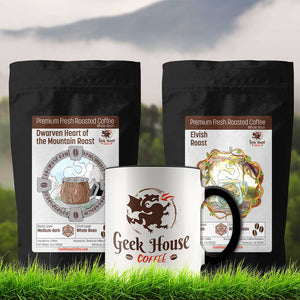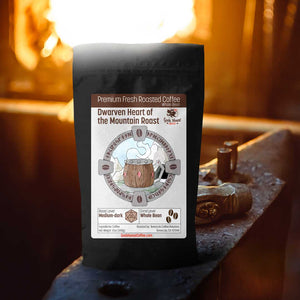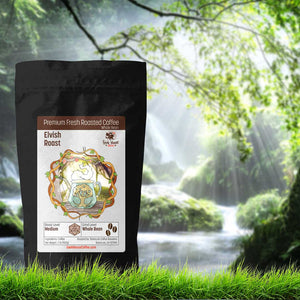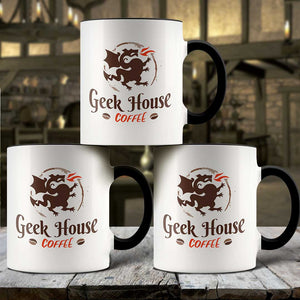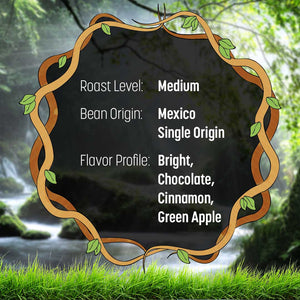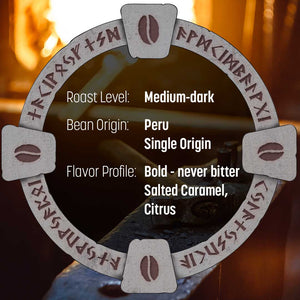 This saver bundle comes with our two most popular coffee roasts at 12 oz each plus an awesome Geek House Coffee Mug. We know Elves and Dwarves aren't always the best of friends, but we already spoke to these two and they both gave oaths not to fight with each other while in shipment. They will be like another pare of famous Dwarf and Elf duo - their names escape me right now, what is it, Legoli and Gimlas...yeah, something like that. 
Dwarvish Heart of the Mountain Coffee - 12 oz
Elvish Roast

 - 12 oz

Geek House Coffee - 11oz Mug
Add all three to your inventory in a single roll and save coin while doing so!
All Coffee from Geek House Coffee is roasted in small batches, ground and packaged to order. Please note, the mug will be shipped separately from the coffee.
Please read the the backstories below for a short stories on these great coffees. 
Dwarven Heart of the Mountain Roast Backstory
As bold as the Dwarves who brew this coffee, the Dwarven Heart of the Mountain Roast is a perfectly medium to medium dark roast, with great flavors. Salted caramel, silky smooth with finishing touches of citrus, this coffee will definitely not leave you wanting! 
Tradition states that the Heart of the Mountain Roast is a powerful cup, brewed from beans of the ancient trees at the heart of the mountains planted by their patron God, Moradin himself. It is told through song and story over the generations that the power of the coffee extracted by the original sages of the first Dwarves are what gives them their unending strength and stamina.

This coffee has been served to the ranks of Dwarf solders on the ongoing front-line battles against orcs and goblins for a thousand years. A single cup gives a Dwarf who is just and true at heart the strength of the mountain and stone walled courage. Dwarves still regard Heart of the Mountain Roast as a cultural treasure and are very careful with outsiders with whom they allow to indulge in its glory. A medium roasted coffee, with salted caramel with silky sweet hints of citrus and a full-bodied aroma make this coffee a staple to be enjoyed at any Dwarven forge, hearth or mine.
Elvish Roast Backstory
Anything that comes from the Elves is renown far and wide as the utmost quality. The Elvish Roast coffee is no exception! Bright and uplifting, this coffee has notes of smooth chocolate, warming cinnamon & crisp green apple. 
The magic Holathanas trees that grow in the sacred forests are as ancient as the elves who cultivate them. Since the Second Age, the Wood Elves have harvested the cherries from this tree to make a delightful brewed coffee from its beans. The flowers and cherries that grow are unusual as they do not seed so while the Holathanas trees are seemingly immortal, they can never be replenished. These elegant trees are heavily guarded by skilled Rangers and are widely regarded as one of the Wood Elves natural treasures.

Typical of Elvish culture, the beans are hand-picked by highborn and lowborn alike and shared openly with all. Anyone who crosses into their borders and declared friends of the forest, can enjoy the Elvish Roast with impunity. This organic medium coffee sings with chocolate, cinnamon and bright green apple and has an enchanting aroma that is unmistakable.
Mug Details
This high quality 11oz. ceramic white accent mug has a premium hard coat that provides crisp and vibrant color reproduction sure to last for years. Perfect for all hot & cold beverages. 
All mugs are printed on demand
Processing time 3-6 days
Will ship separately from coffee
High Gloss + Premium White Finish
Accent color on handle and inside mug
Dishwasher and Microwave Safe
3.7″H x 3.7″W x 3.2″D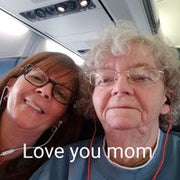 As a coffee addict I am always looking for a better cup. The Arcane Coffee is one of the smoothest, best tasting coffees I've ever had. Absolutely recommend buying this. Easy site to use, shipped fast.. I'm a forever customer now.
Theresa Deacon
I have been getting my coffee in the morning on the way to work. Now I have been making my coffee at home and bringing it with me! Smooth and delicious! I will be buying another lb of coffee when I finish this one.
Chrissy Wilkins