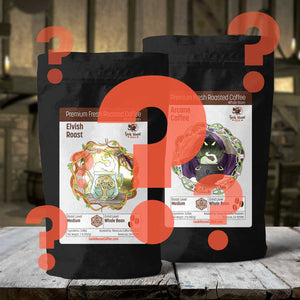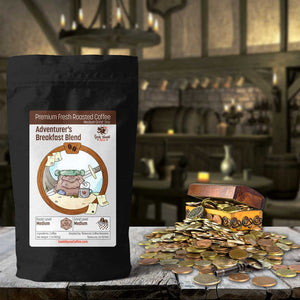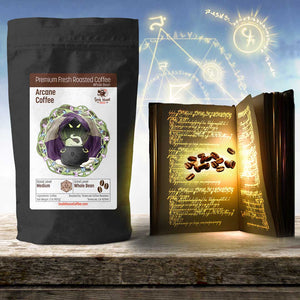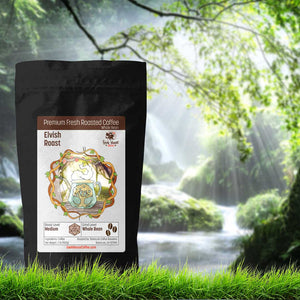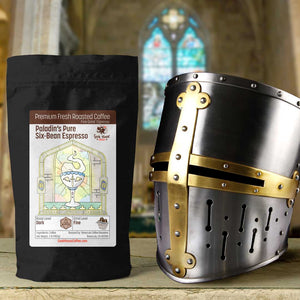 Select from any two of Geek House Coffee's great coffee selection!
All Coffee from Geek House Coffee is roasted in small batches, ground and packaged to order.

Please read from our backstories below for a short story on each coffee!
Adventurer's Breakfast Blend Backstory
Adventurer's Breakfast Blend is specially made medium-light blend to get any adventurer's daily quest off on the right path. A very clean and blanched flavor that is never bitter.
A robust "House Blend" coffee served coast to coast by almost every inn, tavern or quest hub in the realm. This perfectly smooth, medium bodied blend is the needed starting point for virtually every Adventurer! You can pull up a chair to any armored patron with a cup of Adventurer's Breakfast Blend and listen to story after story as he or she weaves legendary tales of collecting 9 rat tails, picking 5 blue flowers by the river, or my personal favorite – killing countless bores to get a rare drop of a Pristine Pelt…how are you supposed to kill a boar with a 2 handed sword or magic missile and get a Pristine Pelt, seriously?! …but I digress…buy this coffee, it's really good, you won't be disappointed!
Whether you are starting your daily grind, dropping the kids off at his or her blacksmith apprenticeship, or 20 years into your epic quest at the business tower; the Adventurer's Breakfast Blend won't leave you behind.
Arcane Coffee's Backstory

The Arcane Coffee is a delightful Single Origin medium roast coffee with notes of sweat apple, raisin & honey, this magic coffee is something to behold! 
The Arcanis Arabicaus tree is truly otherworldly as they are conjured by only the most skilled Mages from other planes of existence and are not found in the natural world. These trees take 100 years to fruit but only have a life cycle after that of about 5 – 10 years. By comparison, a natural growing coffee tree usually matures and fruits after 3 – 4 years and will have a life cycle of about 25 years. You and I both know Wizards are inherently lazy and use their magic to automate and simplify remedial tasks. It's kind of ridiculous if you ask me, but Mages in the field of botany have actually trained these trees to roast the beans while still on the tree! But hey, to each their own I suppose.
The extreme altitude of the floating towers where they grow combined with the ancient Wizard's acutely refined palates give the Arcane Coffee it's unique flavor. The coffee is a smooth medium-light bodied brew with hints of sweet apple, raisin and honey. While Wizards traditionally drink tea, that is not due to preference in taste, but availability. Even with the gift of magic, Arcane Coffee is still very rare throughout the realm. Wizards, unlike Dwarves are not protective of their special coffee, rather they share it among their friends and allies freely as a treat.
Mages of all disciplines have been enjoying this special drink for thousands of years while pouring over ancient texts, spells and scrolls. The most hardened and experienced drinker drinks Arcane Coffee with pure liquid mana rather than milk or cream.
Assassins' Guild: Scorpion's Sting Backstory
The Assassins' Guild: Scorpion's Sting really is an amazing tasting medium-light coffee!  Bursting with flavor you can get floral notes and hints of pear, jasmine, strawberry & grapefruit. This coffee truly has a unique flavor...unique in a good way, trust me! 
This special coffee was once only available to members of the Assassins' Guild. It's been called the "Scorpion's Sting" by those lucky enough to have successful run-ins with members of the Assassins' Guild. Not much is known about the history or genealogy of this coffee and the bean it comes from. What we do know is that this secret roast is what binds members of all Assassin orders as one. Well, that and the act of killing as if it were a fine art…but we like to focus on the coffee here.
The Assassins' Guild: Scorpion's Sting, is light on its feet but hits with a powerful punch from the shadows. Where a skilled Assassin would use perfectly mixed poisons and a blade to do their bidding, this coffee bites with floral notes and a hint of jasmine and pear.
Not surprisingly, the Assassins' Guild doesn't give up their secretes easily, many Baristas died to bring us what little information we do have.
Dwarven Heart of the Mountain Roast Backstory
As bold as the Dwarves who brew this coffee, the Dwarven Heart of the Mountain Roast is a perfectly medium to medium dark roast, with great flavors. Salted caramel, silky smooth with finishing touches of citrus, this coffee will definitely not leave you wanting! 
Tradition states that the Heart of the Mountain Roast is a powerful cup, brewed from beans of the ancient trees at the heart of the mountains planted by their patron God, Moradin himself. It is told through song and story over the generations that the power of the coffee extracted by the original sages of the first Dwarves are what gives them their unending strength and stamina.

This coffee has been served to the ranks of Dwarf solders on the ongoing front-line battles against orcs and goblins for a thousand years. A single cup gives a Dwarf who is just and true at heart the strength of the mountain and stone walled courage. Dwarves still regard Heart of the Mountain Roast as a cultural treasure and are very careful with outsiders with whom they allow to indulge in its glory. A medium roasted coffee, with salted caramel with silky sweet hints of citrus and a full-bodied aroma make this coffee a staple to be enjoyed at any Dwarven forge, hearth or mine.
Elvish Roast Backstory
Anything that comes from the Elves is renown far and wide as the utmost quality. The Elvish Roast coffee is no exception! Bright and uplifting, this coffee has notes of smooth chocolate, warming cinnamon & crisp green apple. 
The magic Holathanas trees that grow in the sacred forests are as ancient as the elves who cultivate them. Since the Second Age, the Wood Elves have harvested the cherries from this tree to make a delightful brewed coffee from its beans. The flowers and cherries that grow are unusual as they do not seed so while the Holathanas trees are seemingly immortal, they can never be replenished. These elegant trees are heavily guarded by skilled Rangers and are widely regarded as one of the Wood Elves natural treasures.

Typical of Elvish culture, the beans are hand-picked by highborn and lowborn alike and shared openly with all. Anyone who crosses into their borders and declared friends of the forest, can enjoy the Elvish Roast with impunity. This organic medium coffee sings with chocolate, cinnamon and bright green apple and has an enchanting aroma that is unmistakable.
Paladin's Pure Six-Bean Espresso Backstory
The Paladin's signature six-bean blend is the darkest roast we offer here at Geek House Coffee. This blend is not only perfect for espresso as the name suggests, but is brilliant as a dark roast drip coffee and even tastes great over ice for a real treat!
Bold and Virtuous, Paladin's Pure Six Bean Espresso is crafted using the best beans from around the realm. For a millennia, Paladins from the Order of the Bean have collected and perfected the divine roast after countless Crusades. Blending six different exotic beans gifted after honorable deeds and combining with techniques passed down by the Heads of the Order. This gloriously dark, full-bodied blend is everything you would expect to arise from the righteous Paladins.
It is legend that the cup that held the first brew of the Paladin's Pure Six Bean Espresso is guarded by the last of three brothers. Three Paladins of an ancient order sworn to protect the sacred cup and have taken it to a secret location, lost to time. But recent markers have been discovered and now the race to recover and protect the sanctity of this relic is underway.
You can expect to face three challenges along the way and will need to walk the righteous path if you hope to succeed. I was lucky enough to find clues on my crusade in the Canyon of the Crescent Moon that will take you safely through:
The Grind of the Gods – Only the penitent man will grind
The Drip of the Gods – Only in the footsteps of God may you drip-brew
The Aroma of the Gods – Only the leap from the cafe will you prove your worth
I grant you this holy quest to pass all three challenges and if your heart is true, vanquish the keeper of the cup and take his place as it's sacred protector! Choose wisely or the armies of darkness will march all over the face of the Earth...and hey, if nothing else, you will at least have a spectacular cup of coffee!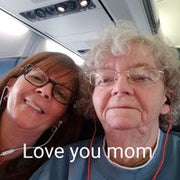 As a coffee addict I am always looking for a better cup. The Arcane Coffee is one of the smoothest, best tasting coffees I've ever had. Absolutely recommend buying this. Easy site to use, shipped fast.. I'm a forever customer now.
Theresa Deacon
I have been getting my coffee in the morning on the way to work. Now I have been making my coffee at home and bringing it with me! Smooth and delicious! I will be buying another lb of coffee when I finish this one.
Chrissy Wilkins