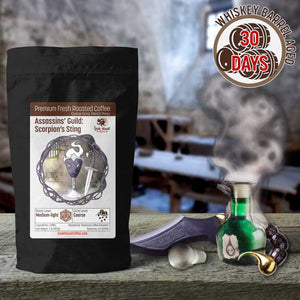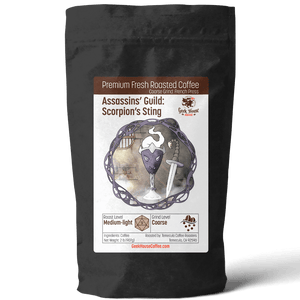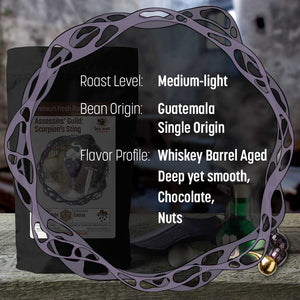 The Assassins' Guild: Scorpion's Sting really is an amazing tasting medium-light coffee!  Bursting with flavor you can get floral notes and hints of pear, jasmine, strawberry & grapefruit. This coffee truly has a unique flavor...unique in a good way, trust me! 
These coffee beans are aged for a minimum of 30 days prior to roasting in whiskey barrels to create an amazing deep flavor!
All Coffee from Geek House Coffee is roasted in small batches, ground and packaged to order.

Please read the Assassins' Guild: Scorpion's Sting backstory below to learn how we were able to get our hands on this unique coffee with a past shaded in mystery.

Assassins' Guild: Scorpion's Bite Backstory
This special coffee was once only available to members of the Assassins' Guild. It's been called the "Scorpion's Sting" by those lucky enough to have successful run-ins with members of the Assassins' Guild. Not much is known about the history or genealogy of this coffee and the bean it comes from. What we do know is that this secret roast is what binds members of all Assassin orders as one. Well, that and the act of killing as if it were a fine art…but we like to focus on the coffee here.
The Assassins' Guild: Scorpion's Sting, is light on its feet but hits with a powerful punch from the shadows. Where a skilled Assassin would use perfectly mixed poisons and a blade to do their bidding, this coffee bites with floral notes and a hint of jasmine and pear.
Not surprisingly, the Assassins' Guild doesn't give up their secretes easily, many Baristas died to bring us what little information we do have.
Not Sure Which Coffee is Right for You?
I understand you might not know which coffee is right for you, but I don't want you to feel lost. Please do not hesitate to message me on Facebook or email me at vinny.geekhousecoffee@gmail.com with any questions, comments, or to share fun campaign story!
I'm here for you, and thank you for supporting small businesses, especially during these times!
 ~ Vinny
Coffee Stats
Medium/Light Roast
Single Origin
Aged 30 days in locally sourced whiskey barrels
100% Guatemalan Beans

Pear, floral, jasmine, strawberry & grapefruit

DM Notes
This newly arrived coffee comes to us from the smaller family owned farms of the Southern Highlands of Mbeya, Tanzania.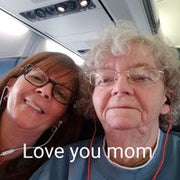 As a coffee addict I am always looking for a better cup. The Arcane Coffee is one of the smoothest, best tasting coffees I've ever had. Absolutely recommend buying this. Easy site to use, shipped fast.. I'm a forever customer now.
Theresa Deacon
I have been getting my coffee in the morning on the way to work. Now I have been making my coffee at home and bringing it with me! Smooth and delicious! I will be buying another lb of coffee when I finish this one.
Chrissy Wilkins